Bio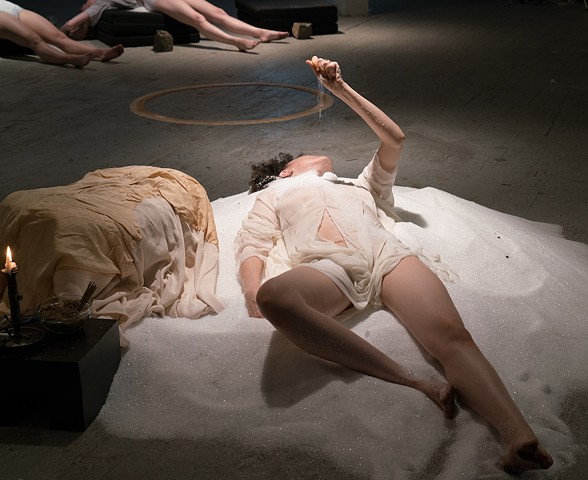 Sarah H. Paulson was born in New Orleans, LA. Since graduating with a BFA in Special Studies in Art from Syracuse University, she has lived and worked as a performance artist in Brooklyn, NY and Putney, VT. Paulson is also a lifelong student of alchemical Taoist medicine and practices acupuncture at Sword Hands Acupuncture & Qigong.
Her art practice remains rooted in the Performative. Paulson believes that performance, in its sacred form, has the capacity to bring the human being closest to what it means to be human.
The boundaries and overlaps between past and present, time and timelessness, and public vs. private surface through her drawings and performances.
By archiving personal experience through her often durational or endurance-based work, Paulson reaches the place where the universal is touched in the audience as well as in herself and/or the other performers.
The artist and the performers are pushed to their limits. Humanness, with its breath and blood, beauty, hopelessness, and potential, is aspired to and celebrated.
Her solo work, as well as her collaborations with Holly Faurot (www.faurotpaulson.com), have been exhibited/performed at English Kills Art Gallery, Brooklyn, NY; Ronald Feldman Fine Arts, NY; Grace Exhibition Space, Brooklyn, NY; ACG (Alice Chilton Gallery), Brooklyn, NY; NurtureArt, Brooklyn, NY; The Chocolate Factory Theater, Brooklyn, NY; P.I.T. (Projects In Transit), Brooklyn, NY; Space 317, Brooklyn, NY; the Harold Clurman Center for New Works in Movement and Dance Theatre at the Stella Adler Studio of Acting, NY; NYCAMS (NY Center for Art & Media Studies), NY; Alive at Satellite (Performance is Alive), Miami, FL; Villa Feuerlösche, Prenning, Austria; Open Art Gallery, Beijing, China; among others.
Her book of poems, To My Companion: within the room within the room, is published by The 3 Lights Press.